How nice has the weather been this week! I can happily say I live in Sunny Surrey!!!!!
So with the nice weather been more body exposure! As said before I'm not a beauty blog but of course like most women out there I like to spend (if I can find it) a little bit of time to make myself feel nice!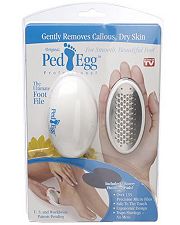 So I'll start with the Ped Egg! Sadly I will not be sharing any pictures of my feet, I don't think you want to see them anyway as I only have 9 toenails….unless you have a weird foot fetish! You will have to take my word!
The Ped Egg is great, even if slightly disturbingly gross! My husband calls it a real cheesy grater and can't bear to watch me use it. Some things should stay behind closed doors! I use it after having a shower and before moisturising my feet. I basically grate the hard rough bits of skin found on the heel, bottom of pinky and bottom of big toe. I'm sure others have hard skin in other places but these are my problem areas.
I give all areas a good grating in all directions. It doesn't hurt. And then I apply some moisturiser and socks. Then I empty all the dead skin in the bin….worst bit in my opinion!
So if you want smooth feet for the summer then get yourself a Ped Egg - they retail at about £9.99 and a great buy! Don't forget to wash your cheesy hands after use!
Disclaimer: This is my own personal review and I have received no payment for this post.